Make Room for the Voice of the Customer in your Strategic Plan
Your Strategic Plan is your team's roadmap for the entire year. It's important that your team doesn't focus on financial metrics alone. Financials are important but they are usually lagging indicators. That means that setting an aggressive Sales target may be what you want but it doesn't give you any direction on how to actually increase sales. That's where the Voice of the Customer (VOC) comes in.
Here's a few ways you can incorporate the Voice of the Customer into your objectives or hoshins for your 2019 strategic plan.
| | | |
| --- | --- | --- |
| Strategy Layer | Goal | Why? |
| 3-5 Year Breakthrough Objective | Increase EBITDA by 20%. | Financial Growth is key to our Mission and Vision |
| Annual Objective | Increase sales of our highest margin product line, Muggel-Trappers. | Data shows the Muggle-Trapper line continues to gain popularity. |
| Improvement Priority | Develop 4 or more new models of Muggle-Trappers including various user friendly deployment methods | Data shows wizards want a Muggle-Trapper they can deploy without a wand. |
| Targets to Improve | 1. Muggle-Trapper Sales2. Customer Ease of Use Feedback Score | |
Using the cascading goal structure shown above (called the GRID VIEW in KPI Fire) we've incorporated the VOC at 2 points. First we inserted an Improvement Priority using data we gathered from our customers. In support of the Improvement Priority we added 2 metrics, a lagging indicator which is Sales, and a leading indicator, customer's feedback on Ease of Use.
How did we get this valuable insight into our product lines? Customer interaction. Here are some ways you can gather VOC data.
| | |
| --- | --- |
| Interaction | VOC Approach |
| Low | Online Survey |
| Medium | Phone Call Conversations |
| High | Face to Face Conversations |
| Awesome | Field Observation (Undercover Customer Behavior Analysis) |
Guidelines for gathering Voice of the Customer data.
Gather a large enough sample size, 50 or more for face to face, 500 or more for more accessible market data.
Have specific questions you want answered, "Why did you choose our product over others?" "What functions do you find easy to use… difficult to use?" "What would make our product more amazing?"
Ask additional open-ended questions that prompt customers to give you insights and answer questions you may not have thought of
Find ways to observer the customer interacting with your product or service and take vigorous notes. This is the gold mine.
Look for outliers in your data, customers and use cases on the fringe. There may be opportunities there.
By using data gathered directly from our customers we can be more confident that our strategic plan will drive success. This year let's build customer happiness into the strategic plan!
Oh look. Muggle-Trapper Sales are up! You're a wizard.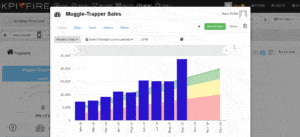 Cheers,
Cedro Toro